IDAMS – International Research Consortium on Dengue Risk Assessment, Management and Surveillance
Dengue, an infectious disease transmitted by the Aedes mosquito, has caused a significant burden for the healthcare system in endemic countries, including Indonesia. Early detections for dengue is pivotal to improve case management and efficiently utilize limited health resources. However, an accurate diagnosis for dengue before any complication erupted is challenging, especially for healthcare with limited resources. Late intervention may cost death and increase the risk of dengue outbreaks to occur.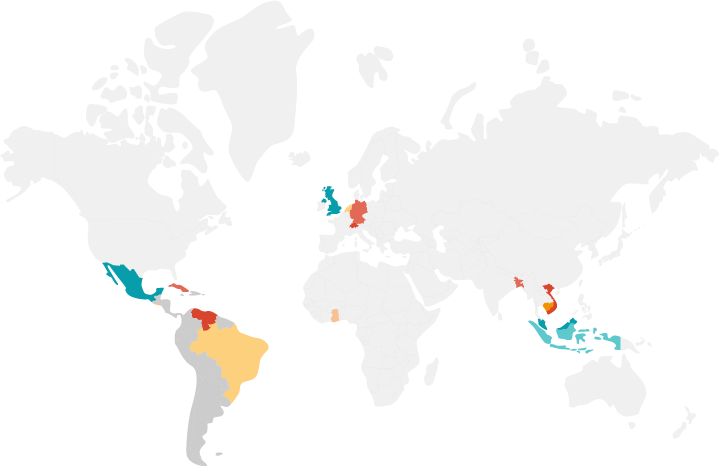 ---
Funding
---
Partnering Countries
Germany, UK, Vietnam, UK, Switzerland, TDR/WHO, Malaysia, Indonesia, Cambodia, Cuba, El Salvador, Brazil, UK, Ghana, Netherlands, Venezuela, Brazil, Bangladesh, Mexico
---
Duration
2011 – 2017
---
Principal Investigator
Ida Safitri Laksanawati
---
IDAMS project was a consortium consisted of experts from nineteen countries worldwide, including Indonesia. It aimed to improve the diagnosis and clinical management of dengue by identifying existing clinical and laboratory parameters, and/or viral and immunological markers to differentiate dengue with other common febrile illness within three days fo fever onset, and to identify any of the available markers that are predictive of the likelihood of evolving to a more severe diseases course.
Currently, IDAMS consortium has published fifty-two journal articles, five book chapters, and two reports.
Published Works
Jaenisch T, Tam DT, Kieu NT, Van Ngoc T, et al (2016) Clinical evaluation of dengue and identification of risk factors for severe disease: protocol for a multicentre study in 8 countries. BMC Infect Dis 16: 120.
Farrar JJ, Hien TT, Horstick O, Hung NT, et al (2013) Dogma in classifying dengue disease. Am J Trop Med Hyg 89: 198-201.
Akbar NA, Allende I, Balmaseda A, Coelho IC, et al (2012) Regarding "Dengue–how best to classify it". Clin Infect Dis 54: 1820-1821; author reply 1821-1822.
Badurdeen S, Valladares DB, Farrar J, Gozzer E, Kroeger A, Kuswara N, Ranzinger SR, Tinh HT, Leite P, Mahendradhata Y, Skewes R, Verrall A (2013) Sharing experiences: towards an evidence based model of dengue surveillance and outbreak response in Latin America and Asia. BMC Public Health 13: 607.
Stahl HC, Butenschoen VM, Tran HT, Gozzer E, Skewes R, Mahendradhata Y, Runge-Ranzinger S, Kroeger A, Farlow A (2013) Cost of dengue outbreaks: literature review and country case studies. BMC Public Health 13: 1048.